RECLAIM YOUR SKIN WITH…
surgical tattoo removal
A NEW METHOD OF TATTOO REMOVAL
Tattoo removal isn't uncommon these days. Some people may have a tattoo from when they were younger and have now outgrown, or perhaps you no longer like the style you designed. Whichever the reason, surgical tattoo removal is a quick and effective procedure which removes tattoos through excision or skin graft. Not all sizes of tattoo are suitable for laser tattoo removal, so surgical tattoo removal can be a great alternative. We recommend that you book a consultation to discuss your tattoo and the best procedure for you.
Simple and quick tattoo removal
A simple and quick method which offers long lasting results. You will be left with a scar which will slowly fade over the course of about eight months. It's important to take care of your scar post-op, so that you are not left with a more prominent mark.
Who is surgical tattoo removal for?
Patients should be in good health and have realistic expectations surrounding this surgery. You must also be over the age of 18. It's recommended you either quit or refrain from smoking to ensure the best recovery. Ideal candidates for this type of surgery include people who don't wish to go through multiple laser sessions, people who have outgrown their tattoos, people who no longer enjoy the design of their tattoo and would like to alter it, or people who are trying to clean up their appearance for a new career.
What is involved with this procedure?
If you have a very large tattoo you may require two sessions, however, the average tattoo will only require one. An oval shaped cut will be made around the skin and then the edges will be stitched together. Scarring will fade over time.
With large tattoos, sometimes the excess skin can't be easily removed and stitched together. In this instance you will be required to have another appointment where more of the skin is cut after some healing. Skin grafting is also used in this surgery. This means skin from another area of the body is stitched onto the removed skin to fill in the gap.
Recovery
There will be some discomfort post-op, and you will be provided with painkillers to help you manage this. It's recommended you moisturise and apply sunblock to the scar for 18-24 months to improve the final result. Contact us to find out more about this surgical procedure.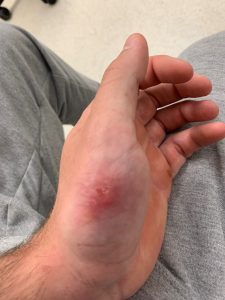 Note – A deposit will be required before commencement of this procedure. We will inform the patient the percentage of the deposit required at the clinic, when booking the procedure.
Disclaimer–
1) Actual results may vary from person to person
2) If you have any medical conditions or are taking medications please consult your Medical Health Practitioner before commencing any aesthetic procedures.
3) Certain treatments are not suitable in pregnancy and breast feeding.
4) The aim of the Dermcosmesis website is to provide you with general information about Cosmetic medicine, Cosmetic Surgery, Skin treatments and Aesthetic products. Every effort has been made to ensure that the content are accurate at the time of writing.
5) The examples and the before and after pictures on this website are not intended to represent or guarantee that everyone will achieve the same results.
EMBRACE YOUR BEST SKIN EVER